Posted by Hans Heshusius on 22nd Sep 2018
As principal and founder of Austral Piano World, we are very happy to announce the arrival of some beautifull organs into our store. They sound just great, and can be used in many enviroments, such as home, chapel and or church, or as recently one was placed in St.Mary's catherdral in Sydney. With the backing of Principal Organs, we welcome the involvement of the Roland Corporation, whom have been for so many years, and are still involved with the product.
At the heart of Roland Corporation is a passion for music—the special bond between musician and instrument, art and technology. It is truly the reflection of the company's founder, Ikutaro Kakehashi.
Roland Corporation has always fostered the unique relationship between player and instrument that lies at the core of the world's greatest music. It is this union of the artistic and scientific that has so influenced the course of modern music history, and for that we have Ikutaro Kakehashi to thank.
The marriage between the tradition of RODGERS, a prestigious classical organ brand, and Roland's leading-edge digital technologies began in 1988, when Roland purchased the Rodgers Instrument Corporation.
In January 2016, The Vandeweerd family from Holland acquired Rodgers Instruments from the Roland Corporation. The Vandeweerd family has achieved worldwide success for decades with prominent organ brands Johannus, Makin, and Copeman Hart. Now with Rodgers Instruments as their newest family member, the Vandeweerds are the world's market leader for digital and hybrid pipe organs.
The acquisition of Rodgers represents an important step for inspiration, innovation, and assurance. Thanks to the strength of shared knowledge and experience, a worldwide range of products and services and the common goal of producing high-quality organs for years to come, Rodgers' American sound will continue to resonate in the future.
ABOUT RODGERS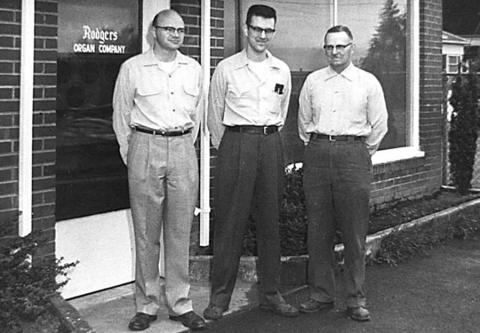 Two visionary engineers and organ enthusiasts, Rodgers Jenkins and Fred Tinker, originally founded Rodgers Church Organs in 1958. The company's focus was helping make the transformational power of the American organ more accessible to churches, colleges, performance centers, and players by embracing advancements in technology. From this dedication to serve and passion for elevating the human spirit through music, Rodgers was born.
COMMITMENT TO EXCELLENCE
Decades later, Rodgers Instruments is unwaveringly committed to our founder's vision. Every member of our team brings an expert level of craftsmanship, attention to detail, and devotion to faithfully creating a true American pipe organ sound that is beyond expectation. Rodgers aims to build the finest digital organs available, for any setting, each and every day.
ORGANS ROOTED IN INNOVATION
With faith, hard work, and dedication Rodgers has led the way in innovative digital and hybrid pipe organ technology. Highlights include building the world's first all-transistor church organs, successfully creating the first pipe-electronic hybrid organ, and being the first company to use microprocessors, MIDI and USB storage in church organs. Rodgers has also created magnificent pipe organs including the world's 17th largest pipe organ with over 10,000 pipes installed at Second Baptist Church in Houston, Texas.
LOOKING FORWARD WITH PURPOSE
Rodgers continues to push the art of organ building with the goal of faithfully delivering the emotionally and spiritually lifting experience of the American & European pipe organ sound to a new generation of performers and audiences around the world.