Product Description
CA79
Premium Concert Artist authenticity
Combining Kawai's industry-leading Grand Feel III wooden-key keyboard action, stunning SK-EX Rendering piano sound engine with multi-channel sampling and resonance modelling, premium audio processing and amplification technologies powered by Onkyo, and a powerful 6-speaker output system, the CA79 delivers grand piano playing authenticity at a competitive price.
Feel Inspired
A piano that will encourage enthusiastic players to become accomplished pianists, and transform living rooms into grand concert halls. This is the ambitious philosophy behind Kawai's latest Concert Artist series – premium instruments that capture the essence of playing a magnificent concert grand piano, and inspire musicians to realise their true artistic potential.
The Touch of a Grand Piano: Grand Feel III wooden key action

Embracing many of the long-established principles associated with an acoustic piano, the Grand Feel III keyboard action utilised by the CA79 combines realistic materials, motion, and mechanism to recreate the exceptional touch of the finest concert grand pianos.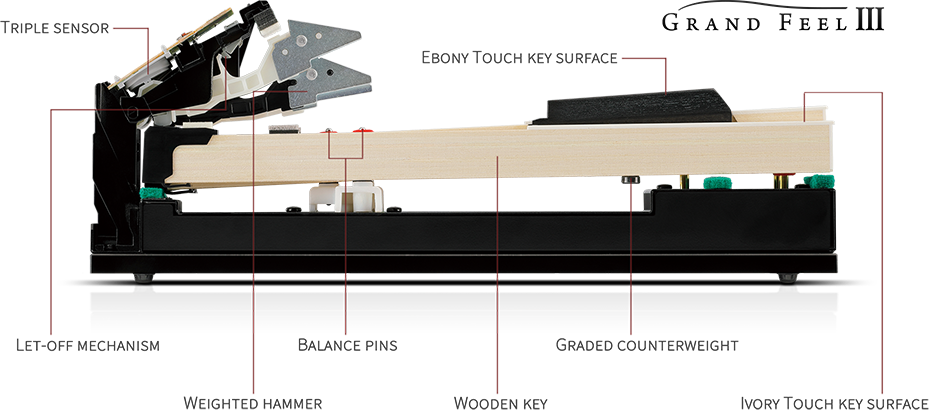 All eighty-eight black and white keys are crafted entirely from long pieces of wood, with finely textured ivory and ebony-like surfaces applied to absorb moisture and assist control. Each wooden key pivots smoothly on a balance pin – the ends rising and falling to replicate the familiar 'seesaw' motion of an acoustic piano action. When pressed, the back of the key lifts, triggering a grade-weighted hammer to strike a pressure switch. The amount of force applied to this switch is then measured, and the corresponding note played with authentic tonal character and volume.
Other Details
5 Years Kawai Warranty
Custom Field
Product Reviews